| | |
| --- | --- |
| Bio's | |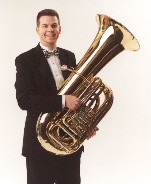 When no one else in his elementary school's 6th grade band wanted to play the tuba, Scott took a chance and gave it a try. Thank goodness the band director had a telephone book for him to sit on, since he couldn't reach the mouthpiece! At New Berlin West Middle and High School, there were only two years that Scott enjoyed some company in the tuba section. The other four years were all up to him to supply the low notes of the group. Never did a school-owned sousaphone or concert tuba get so much attention!
After graduation in 1996 (yeah, he's the youngster of the group), Scott attended Valparaiso University in Indiana on a partial music scholarship. He was principal tuba for both the Chamber Concert Band and Symphony Orchestra, the top two instrumental ensembles of the University, and has performed on tour in Chicago, Cleveland, Milwaukee, New York City, and St. Louis. On the lighter side, Scott was a member of the University's Festival Brass Quintet, Brass Ensemble, and Pep Band. His pep band experiences include two years as Co-Director and four consecutive years of following the men's basketball team to NCAA Tournament appearances (including a Sweet 16 game in 1998!) all over the country.
Scott received his B.A. in Music Education in 2000, teaches band at two area Lutheran grade schools, and resides in New Berlin.
[ Home ] [ General Info ] [ In The News ] [ Bio's ] [ Schedule ] [ Photo Gallery ] [ Letter Gallery ] [ Sound Clips ] [ Links ] [ Feedback ] [ Contact Us ]