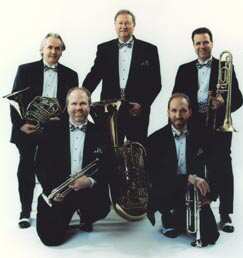 The music of one area band has left the ground. And taken to water.
Sterling & Brass, a Lake Country brass quintet, has been playing from a pontoon boat on lakes across the area.
"A couple years ago we went out on my pontoon boat on Okauchee Lake and we had a lot of fun....so last year we toured eight lakes," said Chuck Kuhtz, trumpet player.
Sterling & Brass' first lake performance this year will be at 2 p.m. June 25 on Pewaukee Lake. Kuhtz said the band will be taking off from Rocky Point and riding along the shoreline.
"People have been very enthusiastic about having us come back on Pewaukee Lake, Lake Keesus, and North Lake," Kuhtz said.
"It started out as kind of a replacement for weekly rehearsals and it's sort of grown into a planned event," Kuhtz said.
Sterling & Brass, which plays a variety of styles, including Dixieland, traditional, jazz, swing, polkas and baroque, considers lake performance as only one type of concert, along with weddings, parades and community events.
"It's not a band in the traditional sense; it's really more like chamber music. It's eclectic," said Wayne Fraederich, French horn player. "We try to entertain or perform a service."
Sterling & Brass has five members, Kuhtz, of Hartland, who plays trumpet; Fraederich, of Oconomowoc on French horn; Todd Wenzel, Delafield, a trumpet player; Stan Laasch, Brookfield, tuba; and Jack Schulze, of Hartland, on trombone.
"We got together just to play and have some fun," Kuhtz said. "We got pretty good and people started asking us to play at weddings, and one thing led to another."

"Sterling & Brass is a versatile and entertaining group providing music for every occasion."

Jack Schulze
Trombone player
Schulze said he approached Fraederich with the idea for a quintet in the fall of 1996 at a Hartland Community Band rehearsal. Sterling & Brass was officially born in January of 1997.
Kuhtz said the quintet's first performance was at Divine Redeemer Evangelical Lutheran Church, Hartland.
"We enjoy playing at the churches in the area because traditionally the music in a church was played by brass instruments," said Fraederich.
Fraederich, who arranges pieces for the band, said the kind of group it is makes it unique and fun to be part of.
"For most of us, (a quintet is) one of the most exciting forms of ensemble to play in.
"It's not as intimidating as a solo or as faceless as playing in a large concert band....it's a real exciting and expressive way to use our instruments," Fraederich said.
"All the guys in the group are good players, and we've known each other long enough that we know how a certain guy is going to sound in a certain part of the music. Our styles are very consistent with each other," said Kuhtz.
The members of Sterling & Brass do more than just play instruments together.
"We all share the work and the responsibilities," Kuhtz said, referring to the booking of concerts, financial management, and scheduling of pontoon boat outings.
The quintet players have diverse full time jobs as well. Kuhtz is an investment representative with Edward Jones, while Schulze sells fundraising products (pizzas, wrapping paper, etc.) for schools and non-profit organizations.
Fraederich is a Pewaukee school music teacher, Wenzel is a computer systems analyst and part owner of Hartland Software, and Laasch is an accountant.
Yet the group has found time for rehearsals, performances, and to record a demo compact disc, made up of more than 30 song clips, which they use to let people choose performance selections, Schulze said.
"We have plans to make a (full-length) CD. We got the demo CD completed over this last winter. I'd expect that over the next year or so we'd have a CD out," Kuhtz said.
In the meantime, Sterling & Brass is looking forward to its live summer performances.
The first of these is at 7 p.m. June 22 at Hartland's Nixon Park Lake Country Fine Arts Center (the bandshell). The quintet will be playing a Sound of Music Medley, as well as a Dixieland-style Fats Waller piece called "A handful of keys."
"(Dixieland) usually ends up being the most fun stuff to do," Fraederich said.
The performance will also include a quintet arrangement of English Folksong Suite, a concert band piece, and a medley of Armed Forces tunes as an Armed Forces salute.
Schulze said the classical literature the band performs is his favorite.
"I like the Pachebel Cannon (in D) and the Barber Adagio for Strings," he said.
"I think what we do best as a group is the ragtime and Dixie items. Those are my favorites," said Kuhtz.
"I like the traditional brass quintet music that they play," said Jenny Humphrey, Delafield resident and long-time fan of the band.
Sterling & Brass plans on another lake tour this summer. Besides the June 25 Pewaukee Lake concert, the quintet will set the night to music at 6 p.m. June 30 at Lac Labelle, setting off from Shore Haven.
Other performance sites include North Lake, July 30; Lake Keesus, August 5; Okauchee Lake, August 15; Pewaukee Lake, August 27; and the Venetian Pontoon Parade on Okauchee Lake, July 14.
On land, the quintet will participate in the Hartland Fourth of July Parade.
"These are very accomplished musicians and people will enjoy it," said Humphrey. "It will be fun and it will be well worth their time. They won't be disappointed."
"Sterling & Brass is a versatile and entertaining group providing music for every occasion," Schulze said.
For more information or to reserve Sterling & Brass for a show, contact Jack Schulze at 262-367-4995 or Info@SterlingAndBrass.com. The band is also working on a website, www.SterlingAndBrass.com.
PHOTO CAPTION:
CLASS ACT - Sterling & Brass, a brass quintet that plays everything from classical to ragtime, is enriching the concert experience with pontoon boat performances on area lakes. Pictured is (clockwise from left) Wayne Fraederich, French horn; Stan Laasch, tuba; Jack Schulze, trombone; Chuck Kuhtz, trumpet; and Todd Wenzel, trumpet. (Submitted photo)
©Lake Country Reporter 2000